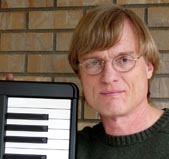 Bob Montgomery - Keyboards
Bob came to Colorado in 1977 to work for Hewlett-Packard doing R&D on
computers and operating systems. He still works there part time and spends
the rest of his time juggling the seven or eight bands he plays with at
the moment. Bob leads the Montgomery Jazz Group on organ and piano, and runs the Tuesday Night Sri Thai jazz combo. He plays upright bass in honky-tonk country group Trucker's Daughter, and both bass and piano, as well as some cajun and zydeco accordion, in Cowtown Boogie. He has been working with singer/songwriter Rosann Winn in both the folk and jazz genres to expand her solo act to duo and band performances. And he enjoys playing in backup bands for vocalists Mary Buirgy and Tina Marx.
Then he's on call to play middle-eastern drums for wife Nancy's Bohemian
Caravan belly dance troupe and her belly dance classes.
His earliest jazz influences were Ramsey Lewis in his piano trio and Jimmy
Smith on the Hammond organ. Then came Chick Corea, Herbie Hancock, and
some Floyd Cramer, because it was never just jazz in Bob's past. At the
same time he started playing with his dad and the old jazz cats, he was
doing his best to sound like the organ players for Steppenwolf, Santana,
and the James Gang with his school buddies in a string of garage rock and
roll bands.
.